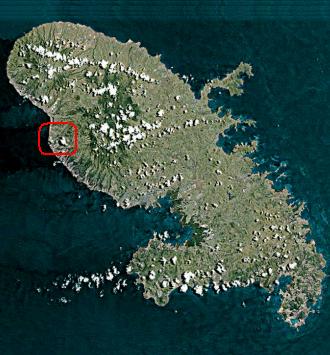 The city was the most populated of the Island.
On 1902, may, 8th at 8:02 AM, a Le 8 mai 1902 à 8 h 2, a dreadful uée ardente broke on the slopes of the Pelée Volcano and destroyed in a couple of seconds the city nicknamed "The Queen of the French West Indies" located at its feets.
More than 28 000 people died by suffocation and burns. Only Louis-Auguste Ciparis, ditty Sanson, survived. He was sentenced to be locked up for 8 days because a brawl with the police.à la suite d'une rixe avec la police. The small opening of the prison cell in which he was locked up was not faced up to the volcano. He was discovered only on May, 11th, after his groans, in the middle of a chared city, attracted the attention of the rescueurs who were looking for in the rubbles. He was reprieved for the end of his sentence and performed in the Barnum Circus by relating his story. Another survivor is sometime also cited : Léon Compère, cobbler in Morne Abel, but his story is not so convincing.
Majestic, but also terrifying, the "Montagne Pelée" volcano overhangs this city which it as destroyed on 1902, May, 8th.
A lot of remains of the city remind this tragic event, as the remains of the theater, a bell warped by the heat of the nuée ardente, which can be seen in the Museum of St Pierre, the prison cell which allowed to Cyparis to be the only survivor of the city from this tragedy.